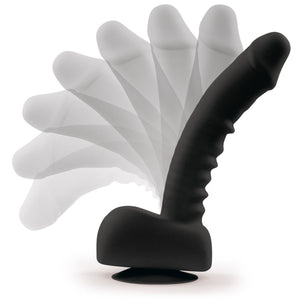 Conjure rock hard erections at the push of a button with UPRIZE® the world's first bionic vibrating dildo.
UPRIZE®'s patented technology powers the rise and fall of the solid shaft which has a coat of soft silicone for superior comfort and a signature curve that guides the pronounced head to G-spots prostates or wherever you desire. With its strong suction cup base harness compatibility and 10 vibration functions that range from intense to off the scale UPRIZE® is designed to let you play your way.
Key Features:


- Revolutionary technology brings you an advanced auto-erecting vibrating dildo for intense otherworldly play.


- Using patented technology UPRIZE delivers rock hard erections with 10 modes of vibration.


- Wireless remote control operation for hands-free fun or power play with a partner.


- Smooth silicone dildo curves upwards for G-spot or P-spot stimulation.


- Harness compatible for strap-on and pegging penetration.


- USB rechargeable for worldwide use and eco-friendly play.


- Waterproof for transforming your aquatic adventures.