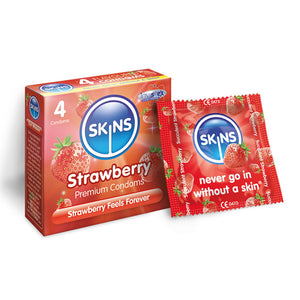 STRAWBERRY FEELS FOREVER
Tantalise your tastebuds with the deliciously fruity taste sensation of Skins Strawberry Condoms!
4 Individually wrapped Strawberry flavoured Condoms for ease of use.


No latex smell


Ultra-clear and thin condoms


Natural feel


Extra lubricated to make them super comfy and to offer better protection


Contains natural rubber latex - sourced from the very best latex regions with the best rubber growing conditions


Fit like a glove


Super safe - tested to the very highest and most up to date European standards


Look good! Feel good! Enjoy naturally better sex with a condom that feels like it's a part of you. So clear and thin they feel like a second skin. Skins Condoms let you play safely without compromising the pleasure!
Also available in a pack of 12 or as part of the Skins Flavoured Assorted Condom Packs.