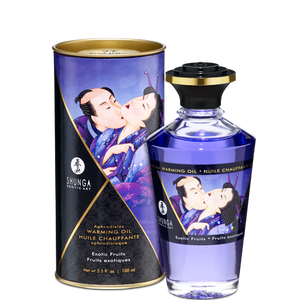 Shunga Erotic Art's sweetly seductive aphrodisiac oils have been lovingly created to greatly enhance the feel of a lovers hands breath or lips caressing your body. These silky smooth warming massage oils can be drizzled over any pleasure-craving part of the body and are heat activated with a soft tingling blow. Scented with arousing aromas and delicious edible tastes to match let your lover lick and nibble their way around your erogenous zones uncovering your most sensitive soft spots as they go. A versatile sugar-free love potion for oral sex and works wonderfully as an erotic massage oil to intensify your senses.



It's not an oil for a full body massage. To use it start by gently rubbing a small amount of warming liquid on your lover's sensitive areas. Then start the heating process by blowing on the area with a sensual hot breath making your partner quiver with desire. Shivering guaranteed! Discover all your erogenous zones and new ones like: the earlobe the back of the neck in between the thighs upper buttocks toes and more activating them one by one. With the warming oil you can let your imagination run wild and make your partner shiver with heat.




A delicious edible warming oil created especially to excite erogenous zones. Activate by the warm breath of soft intimate kisses.