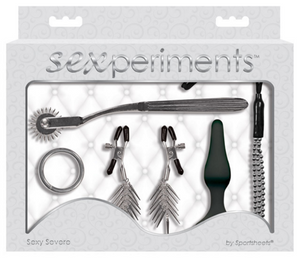 Amazing assortment for sensation play.

Entry level butt plug with flared base Wartenberg wheel – for stimulation anywhere nipple clamps with spiked tassels.

Ingredients: 55% nickel free metal 32% silicone 6% PVC 4% ABS plastic 3% polyester
Metal Cock ring Chain Ball metal beaded whip – heat it up or chill it out for different erotic sensations. Includes: Each "Sexy Severe" Sexperiments kit contains: 1- 4" butt plug 1 Metal Cock Ring 1 Wartenberg Wheel 1 pair of Nipple Clips with Crystals 1 Chain Ball metal whip.