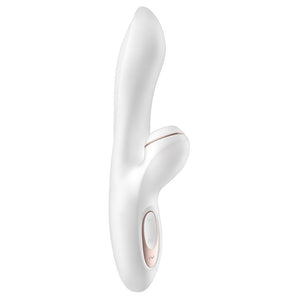 Time for the ultimate in sensation - this special Rabbit is your muse plying you with orgasms for your diary of superlatives. In the typical style of the Satisfyer family it stimulates your love bead touch-free through pressure waves providing deeper stimulation which leads to multiple orgasms. This talent alone has conjured up insatiable smiles on women's faces all over the world. But every cake deserves icing and in accordance with this philosophy the Satisfyer Pro G-Spot Rabbit was developed. It expands the unique feeling of clitoral pressure wave stimulation to include an additional G-spot massage. It could well be worth taking a few days off work and spending them in bed together with this innovative pleasure companion.



The ergonomic shape and silky-soft silicone cover of the Pro G-Spot ensure that it sits comfortably in your hand. Once the tempting design has seduced you it slides smoothly inside you. The flexible elegantly curved shaft clings skilfully to your curves and seeks your G-spot with a voluminous tip containing a powerful motor. A pleasurable bouquet of 3 vibration intensities and 7 rhythms provides you with deep vaginal vibes.



Meanwhile the clitoral stimulator caresses your love bead with sensual pressure wave stimulation. The round silicone attachment encircles your clitoris as you are brought to a touch-free climax. This gives you a sensation similar to that of oral stimulation: rapid change between suction and pressure is available in 11 intensities - simply use the intuitive controls to switch up and down between settings. A third button controls the vibration setting enabling countless seductive combinations of settings. The Satisfyer Pro G-Spot is also extremely quiet although it may well coax a few noises out of you! The waterproof finish means that it is also the ideal bathing companion inviting you to enjoy sensual pleasures in the shower or bath.