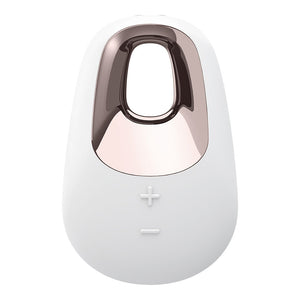 "White Temptation"
This minimalist vibe with stylish metallic detailing features a soft silicone ribbed head which allows for supple and smooth stimulation. With a rumbly whisper-quiet motor this special toy sneaks up on you making you melt and ask for more.


Powerful vibration patterns provide intense clitoral stimulation


Made from super-soft body-friendly medical-grade silicone that's smooth to the touch and extremely hygienic


Thanks to its waterproof (IPX7) finish this toy can be used safely in water and is easy to clean


What's the Satisfyer White Temptation?
The White Temptation is a lay-on vibrator that sits perfectly on your clitoris with its voluminous bulbous shape delivering wave-like excitement and explosive climaxes. The especially powerful vibrations can be adjusted up and down with 15 different vibration programmes consisting of 10 rhythms and 5 speeds. The +/- buttons which are placed in the delicate skin-friendly silicone of the device allow for easy handling while the clit vibrator fits comfortably in your hand thanks to its ergonomic shape.
What's special about the Satisfyer White Temptation?
The White Temptation has an elegant design and sophisticated white and rose gold colour so it reminds you more of a stylish accessory than a sexual wellness device. Gone are the days when these devices had to hide shamefully in the back of your drawer - you can give the White Temptation to your best friend without hesitation or take it everywhere in your handbag. The Satisfyer White Temptation not only accompanies you on the go but is also perfect in the bath or shower because it's waterproof (IPX7) - so you can enjoy breathtaking orgasms even underwater. You can recharge the lithium-ion battery with the included magnetic USB charging cable in an environmentally friendly way.
The Satisfyer White Temptation is easy to clean with lukewarm water and soap or a disinfecting sexual wellness device cleaner. No matter where you decide to use it - exciting hours alone or with your partner are guaranteed!