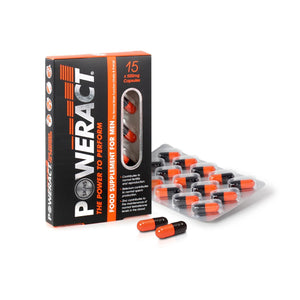 Half of men under the age of 50 experience erectile dysfunction. With impotence rates having more than doubled in the past 25 years it's estimated 322 million men worldwide will be affected by 2025. Partners of men with erectile dysfunction experience lower sexual satisfaction correlated to the degree of erectile dysfunction in their partner and six in ten men avoid sex because of performance anxiety.
Poweract is a powerful daily sexual wellness food supplement for men featuring a proprietary formula made from 100% clean and natural Ingredients.
Featuring a brand-new Halal certified caffeine-free formula containing the equivalent of 700mg Cordyceps 240mg Saffron 200mg Fenugreek and 800mg of Maca Root per serving the new power added formula has been optimally dosed for enhanced sexual wellness. Packed full of nourishing nutrients and nurturing vitamins Poweract is a holistic supplement supporting general health and sexual wellbeing for adult men of any age.
The unique peer-reviewed formula combines proven herbal ingredients with science to promote normal male function restore youthful vigour vitality and energy and contribute to normal fertility and reproduction.   
Poweract UK manufacturer with BRC Food Safety accreditation as well as GMP manufacturing status. Manufactured in the UK to the highest industry standards you can take Poweract with confidence.
Beyond sexual wellness Poweract also can be taken daily as an additional vitamin supplement for men of all ages.
Key Functions of Nutrients:


Zinc helps maintain normal testosterone levels in the blood.


Selenium contributes to normal sperm production.


Vitamin B6 reduces tiredness and fatigue.


Vitamin B6 supports normal psychological function.


Vitamin B6 supports the regulation of hormonal activity.


Contains 60 Capsules. 


Recommended directions for use:
Always read the product directions before use. 
Poweract should be taken daily for optimum results 2 capsules contain 50mg of Zinc and 22mg of Selenium which contributes to the normal and healthy production of sperm. It can take between 75 to 90 days for sperm to mature therefore it is recommended users take 2 capsules daily over a prolonged period of 2-3 months. By taking male herbal supplements daily users can experience an increase in efficacy compared to taking it as and when it is required.
Alternative Use for a Quick Fix:
1 – 2 tablets taken 45 to 60 minutes before activity.
Poweract can help maintain sexual vigour and vitality when required most. However this method of use is not effective for all men and results are not guaranteed
We recommend taking our herbal supplements daily users have reported an increased effect from taking Poweract daily over a single-use "Quick Fix".
Warnings:


Do not exceed the recommended daily dose. 


Do not use if allergic to any of the ingredients. 


Vitamin supplements are not intended to treat or prevent any disease. 


Food supplements must not replace a balanced diet and a healthy lifestyle.


Storage Conditions:
When not in use store below 30 º C / 86 º F. Keep out of reach of children. Store in a cool dry place out of direct sunlight.
Full list of ingredients:
L-Arginine HCl Bulking Agent (Rice Flour) Capsule Shell (Pullulan Gum) Saffron 4:1 Extract Zinc Oxide Panax Ginseng 10:1 Cordyceps Sinesis 10:1 Lycium Barbarum 10:1 L-Selenomoethionine  Pyridoxine HCl (Vitamin B6)  Fenugreek 4:1 Extract  Maca root 10:1 Extract Anti Caking Agent (Magnesium Stearate) Flow Agent (Silicon Dioxide) Capsule Colours (Ponceau 4R Brilliant Blue FCF Titanium Dioxide Tartrazine)