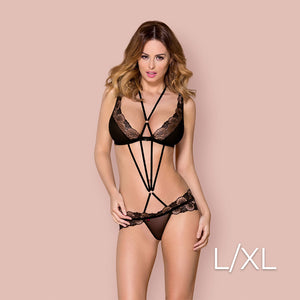 Obsessive - 873-SEA-1 teddy L/XL – Black
Stunning and incredibly alluring two-piece lingerie set inclusive of bra and thong. Symmetrical velvet-ribbon straps and golden rings draw attention to the naval and encircle the bust for added seduction. Elegant lace with beautiful golden flowers line the top of the breasts and give the thong that extra sex appeal.
Other Sexy Details:


bra with adjustable straps and multistage closure for a perfect fit


adjustable straps between breasts and across the back


detachable straps between the two parts of the set 


charming tiny pendant


straps (non-detachable) thong and additional straps that can be attached to the bra and thong


soft elastic fabrics (94% polyamide 6% elastane)


The Obsessive Sexy range is made of delicate sensual and timeless pieces that can be worn to invigorate daily wear to make you feel beautiful and flirty.