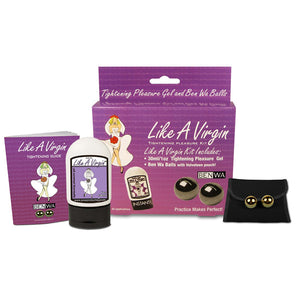 Like A Virgin Tightening Kit.
Tigthening Pleasure Gel and Ben Wa Balls in an attractive pouch and a very informative Tightening Guide.
30 nights tighter in a bottle! Make every time feel like the first time with this unique vaginal tightening gel. Gives a temporary tightening of the vaginal walls for easier and more intense orgasms.
Ben Wa Balls give a subtle vibrations to every movement. Placed inside the vagina the Ben Wa Balls are both for pleasure and for strengthening the PC muscle. Weights roll around inside the marble shaped balls sending tingling vibrations throughout the pelvis.
Kit Includes:
30ml Like A Virgin Tightening Gel.
Ben Wa Balls in attractive pouch.
Informative Tightening Guide.