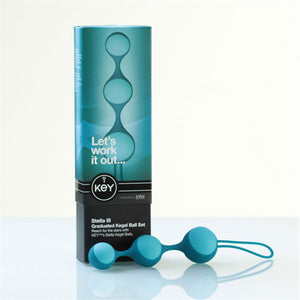 Stella III Graduated Kegel Ball Set Silicone - Blue
Key by Jopen Stella III Robin Egg Blue. Kegel Ball Set. Achieve stronger orgasms with the Stella III Triple Kegel Ball Set from Key Pleasure Toys.
One set of weighted balls: 20g 30g and 45g. For the best results insert and squeeze.
The Key is in your hands.
Key welcomes you to a world of greater pleasure toys that feel more effortless natural and arousing than ever before. Created by women and couples these innovative ranges of high quality are meticulously crafted toys to excite and delight you in every way.
This means with every moment with Key is an inviting and stimulating experience. In other words a mind-blowing 'make you want to wake your neighbours up' good time.


Kegel ball holder with retrieval loop.


Wrapped in body-safe silicone


1.75 inches by 9 inches overall.


1.75 inches large ball diameter


1.5 inches medium ball diameter


1.25 inches small ball diameter


Let's work it out! Great to use in conjunction with Kegel exercise routines. Soft luxury lint free bag included. Directions included. Always wash before and after use. Materials: Silicone balls holder ABS plastic decoration.