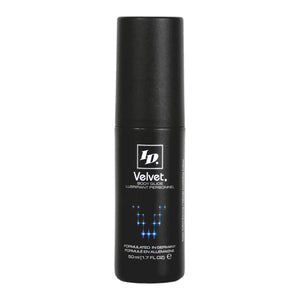 A premium and high quality formula that stands for luxury and performance. Insatiably soft smooth and friendly to skin. ID Velvet is made using the highest pure grade silicone available to create the best experience possible. It's incredibly long lasting even in water and also moisturises the skin so it feels great even after sex. The potent formula is perfect for sex masturbation and even a sensual massage. Velvet is latex friendly so it's safe to use with condoms (but not with silicone toys).
It only takes a little to do a lot so even a small bottle of this thick and smooth lube will go a long way. Creating endless blissful nights. It's also fragrance free.
A 50 ml bottle that will fit in a bag and is great for taking away on holiday. Great for customers who want to try lube or are going away.