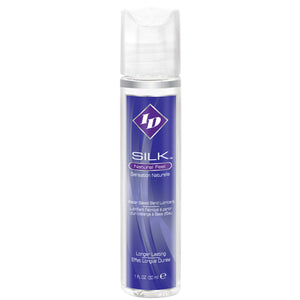 A premium hybrid lubricant from ID Lubes Silk is one of the most innovative and high-grade hybrids on the market. It has the natural feeling of a water based lubricant with the long lasting effect and silky smooth texture of a silicone lube. The blended formula also contains hydrolysed silk which keeps the lube hydrated for long because it retains a huge amount of water so it just keeps going.
The gorgeous consistency of this lubricant will excite lovers with a single touch. It's perfect of masturbation fun with toys both anal and vaginal sex and even sensual massages. ID Silk is intensely moisturising and leaves the skin feeling soft after use. The formula is non-staining and water soluble so will come out of sheets or clothing with a simply wash. It's also latex compatible so can be used with latex condoms and toys. This hybrid makes for a sensual and unique experience and is for people who want the best.
A 1 floz bottle that is small enough to fit in someone's pocket or handbag and is great for taking away on holiday. It makes for a great impulse buy or an up-sell to customers who are interested in trying lubricant.