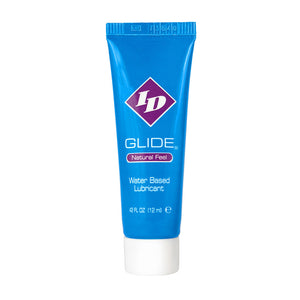 The best water based lubricant on the market ID Glide is rigorously tested so you can have the best experience every time. Thin and natural feeling but with enough slip for almost anything. It can be used for masturbation oral sex and even anal. Glide enhances sensations and makes everything smoother and more sensual. The fun never has to end this water based lubricant can be re-activated if it starts to dry using water or saliva.
ID Glide has been thoroughly tested with other materials and is condom and sex toy compatible. Plus the formula is non-staining so you don't have to worry about the sheets. Glide is approved by the FDA and is made to such a high standard it can even be used in a doctor's office. With ID Glide you know you have a quality product you can rely on for making sex even better.
A 12ml/4.1 floz travel tube perfect for packing for holidays or in an overnight bag.