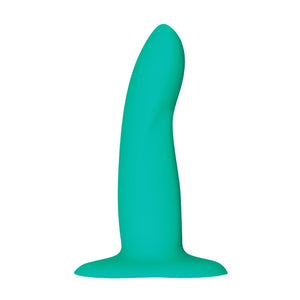 The Limba Flex lets you customise your experience for a fit like no other - the perfect fit only for you.
Bend and twist it to suit your unique shape or the position you fancy. Whether it's your G-Spot A-Spot or P-Spot you're after the Limba Flex will always find it. More than a Dildo… it's a fit toy – made to offer the most comfortable ride of your life.
Available in two sizes Medium and Small. The Small Limba Flex is great for grinding!
Made from hand-crafted body-safe silicone responsibly manufactured in Germany
USPs:


• A customizable dildo with a poseable shaft


• Bend it to hit the G-spot or prostate


• Makes position changes easier during strap-on play


• Slim shaft and tapered tip—great for pegging


• Suctions to flat smooth surfaces


Specs:


• Length 12cm


• Circumference 3cm


• Weight 111g


CUSTOMIZE YOUR FUN
Variety is the spice of life… and that includes having great sex! Every person's body is unique hence why the Limba Flex bends to hold a variety of shapes and angles so you can hit your spot in your preferred position.
WHAT MAKES THIS BENDABLE DILDO SPECIAL?
For obvious reasons you can't 'try before you buy' so you're expected to know what works for you without exploring the different shapes and finding what suits your body. LIMBA FLEX takes the guesswork out of it as it can bend to be whatever you want it to be whenever you want it to be. If you discover you want a dildo with an extreme G-spot curve just bend it into that shape. If you want a straight shaft just bend it back. This customizable dildo makes it easy to try lots of different positions and ways to play without the need for multiple toys.
It's also the perfect item for packing. Just bend it to fit in your case then bend it back when you're ready to play!
I WANT TO TRY ANAL PLAY! IS THE LIMBA FLEX GOOD FOR PEGGING?
The LIMBA FLEX is Anal safe and shaped to make insertion easy and comfy. The tip is tapered so that with lube this dildo will slide right in. The shaft is also on the slim side so you get to enjoy a feeling of fullness while staying in your comfort zone. Oh and if you want to try prostate play just bend the shaft toward the receiver's belly button.
DOES IT REALLY STAY IN POSITION?
Only when you move does it move with you. The firm wire in this customizable dildo's core keeps it in the shape you choose until you're ready to bend it into another. It has a sturdy base and a suction function which means you can stick it on any flat surface like the shower wall for some solo or couple water-sports!
WHAT MAKES THIS BENDABLE DILDO GOOD FOR HARNESS USE?
The Limba is Strap-On friendly. One special feature of this dildo is its super thin base which lets you get closer than ever to your partner during strap-on play.
HOW DO I KNOW IF I WANT THE SMALL OR MEDIUM SIZE LIMBA FLEX?
Do you prefer thrusting or grinding? Thanks to its shorter shaft the LIMBA FLEX S is perfect for riding your toy especially while you grind against a partner who's strapped it on. The longer LIMBA FLEX M is awesome for thrusting. If you're strapping it on it also gives you greater control and makes it easier to change positions.