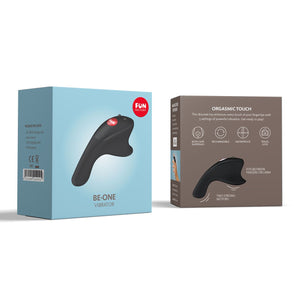 You're the vibrator now!
Re-discover touch with the ultimate hands-free couples' toy!
The BE.ONE rests between your fingers and delivers effortless vibration with every touch! With two strong motors that bounce vibration off each other this vibe heightens every caress.
It's unique as it's the first ever couple's vibrator that really disappears into your love making. You go back to basics: touch playfulness and finding out what makes each other feel good! Use the BE·ONE to explore play tease and of course get each other off.
Once you've scrolled through all four speeds you hit the 'flirt' setting. Unlike a traditional pattern this setting changes in subtle but unpredictable ways sometimes rumbling more heavily sometimes easing off a little and always leaving you wanting more.
Key selling points:


Two small yet mighty motors that work in sync with one another


Suits anyone – beginner solo couples looking to reconnect


Fits perfectly between fingers or labia – so snug you forget you're wearing it


Ergonomically shaped


4 speeds one "flirt" setting


Rechargeable – Love the Earth (60 minutes of battery life)


Body-safe materials — Love yourself


Waterproof and hypoallergenic
Travel lock and whisper quite – also includes a free 'Clean & Carry' case for discreet travel and storage!
Includes a guide to sex and flirt or dare game