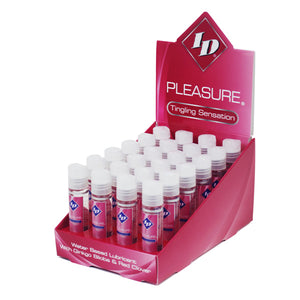 Exciting Stimulation!
ID Pleasure ® is here for those who love the quality of ID Glide ® with added stimulation! A water based lubricant with a tingling sensation that will add a whole new layer of excitement to your bedroom escapades. Fill your intimate moments with a rush of pleasure as you experience one of our most unique personal lubricants. The tingling feel of this lubricant will invariably send you spinning in delight as you plunge headlong into excitement. Make your next night of passion one full of excitement and adventure with ID Pleasure ®.

ID Pleasure ® uses the same water-based formula as ID Glide ® but with the added natural botanical extracts of gingko biloba and red clover to increase stimulation to the applied area. In turn sensation during intercourse or masturbation is enhanced. Due to the unique feeling that is present in our lubricant it also greatly improves stimulation to your nether regions. A surefire way to get things in the bedroom off to a roaring start our lubricant is here to show you the meaning of the word pleasure.

Along with being a fantastic personal lubricant to use with your partner or on your own Pleasure is also great to use with your toys. Use it with either latex or silicone toys and enjoy your time having fun with them like never before. Have no worry over spills as this lubricant leaves no stains and cleans off of most fabrics with a simple run through the wash. With so many benefits it's easy to see why this lubricant has become so popular among our customers. Add this to your list of must-haves and enjoy the sexual bliss that will surely follow. Keep ID Pleasure ® around for those extra frisky moments!