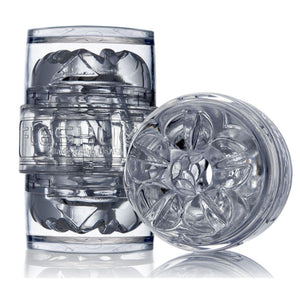 Sometimes efficiency is the best policy. The QUICKSHOT is less than half the size of the original Fleshlight and is unique due to its fully exposed orifices on each end. This means it can be used as supplementary stimulation during blowjobs/fellatio/oral sex or as a solo masturbation aid.
Key Features


Made of patented Superskin material


Easy to use and clean


Intense texture inner canal


Play more. Clean less.


Open-ended version


Fleshlight Sensation Vantage
Lined with thick ribs and bumps the steely silver sleeve will amplify your pleasure with constant surprises at every thrust. Give it your best shot you'll be thrilled with the results.
More about Quickshot
What's included:


Open-ended patented Clear SuperSkin'Ñ¢ Sleeve


Compact Clear case


Sleeve Caps on each end for convenient storage