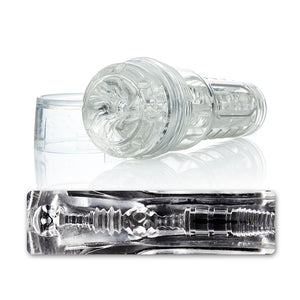 "With the Fleshlight GO's discreet light and compact design you're now able to have a blast wherever you go".
The GO is a compressed and portable version of our original best-selling Fleshlight male self-pleasure toy making it the perfect travel companion.
Key Features





Made of patented Superskin material


Easy to use and clean


Intense texture inner canal


Discreet. Styled like a torch


Smaller lighter and more compact case





The speciality of the Torque Ice is as the name suggests its clear appearance. Not only is its case transparent but also the sleeve itself. This tempts you to take a closer look when masturbating because the penis will appear even bigger through the clear Fleshlight. Torque provides a completely new orifice. It is neutral but not just a simple hole but rather with the shape of a vortex.