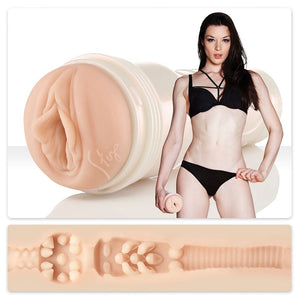 "Fleshlight Girl Stoya Destroya is the Fleshlight male masturbator which replicates Stoya's vagina. Available in realistic flesh tone color with her unique and exclusive Destroya texture. Each custom-molded Fleshlight Girls masturbation sleeve is an exact mold of each star's most intimate parts. Each unit includes the patented Fleshlight Masturbation Sleeve and unique Pearlescent Case.


Key Features

- Made of patented Superskin material

- Easy to use and clean

- Discreet. Styled like a torch for discrection

- Made of patented Superskin material

- Intense texture inner canal


Fleshlight Sensation Destroya

Upon entry three small rings of bumps will grasp you tightly followed by the ultra piercing pleasure dome that will give you 360 degrees of unmatched bliss. The next chamber starts with a small row of teeth and fangs that delightfully rub and pull at you. Finally one row of large bumps leads into a super ribbed texture that narrows the farther you get inside.


More about Stoya

Dubbed her ?America's sweetheart of smut?. Stoya is famed for her assertiveness and confidence that just might break you but in the best way. Keep this in mind when you take home her molded orifices as your own; she'll likely be in charge. The brunette beauty is as natural as she is enigmatic meaning zero bullshit. "