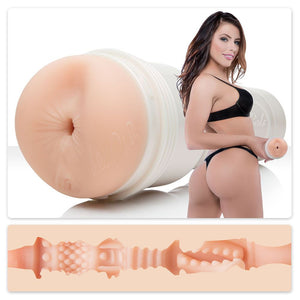 "Biography


Adriana entered the business at the age of 22 she found that she was a natural in front of the camera particularly because she has a high sex drive and was very open to trying new things that would enhance her bedtime experiences. Adriana has experience into double penetration scenes and double anal scenes. That makes her win the 2017 Performer of the Year at the AVN awards.


Fleshlight Sensation: Next Level

Adriana Chechik got the perfect anal signature Fleshlight with Next Level. The diverse structures provide a good and wild stimulation from early on. Just before the middle the intensity increases drastically while more tight passages appear. Next Level makes use of the whole range of structures available for Fleshlights. These are nubs bumps ribs combinations of these but also constrictions and wide spaces. Each part of the texture offers a completely new charm. You won't find any repetitions. Adriana Chechik's Next Level sleeve consists of three chambers. While the first and second are relatively short and almost equal in size the third is by a margin the largest one. Additionally there are two narrow transitions on each side of the last chamber. The first one houses large ribs and the second one contains a smooth surface.


Key Features

- Made of patented Superskin material

- Easy to use and clean

- Discreet. Styled like a torch for discrection

- Made of patented Superskin material

- Intense texture inner canal "