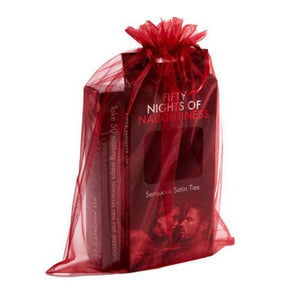 Next Working Day Delivery Cut Off 1pm
A couples game exploring the excitement of eroticism and control play. With 50 invitations offering pleasurable adventures for loving couples who enjoy fantasy play. Fifty Nights of Naughtiness has five levels with ten secret envelopes for each level and is packed with intimate and romantic gestures naughty suggestions and erotic surprises.
The bundle includes the Fifty Nights of Naughtiness game + Sensuous Satin Ties for increased pleasure during and after gameplay.
Contains:
10 x Virginal White Envelopes - tender and romantic actions or suggestions
10 x Pink Envelopes - cheeky and teasing actions or suggestions
10 x Red Envelopes - sensual and experimental actions or suggestions
10 x Scarlet Envelopes - erotic and naughty actions or suggestions
10 x Black Envelopes - kinky and experimental actions or suggestions