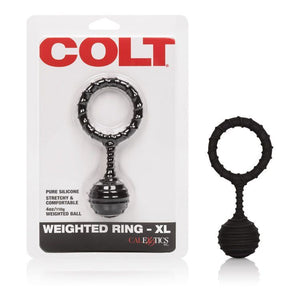 Next Working Day Delivery 1pm cut off
You can put this extra large COLT Weighted Ring around your cock your balls and insert the weighted end into places the sun don't shine if you want!



A very flexible COLT Gear toy for everyone! Wear it all day at work to the gym or just around the house!



Enjoy the ultimate in gratification weighted for your balls' sexual pleasure.
Get the support you need for the ultimate thrilling cumshot. This ring is designed to get you hard and keep you there!
As simple to dissemble as it is easy to use you'll find cleaning a snap.
A perfect fit is all yours with this stretchy and comfortable delight.
1.75" / 4.5 cm (Diameter)