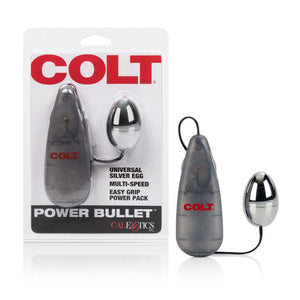 Handsomely stylish and powerful the COLT® Multi-Speed Power Pak™ Egg is befitting of the COLT® name. This intensely satisfying EZ grip power pack offers powerful multi-speed sensations that will have you craving more more more.



Crafted from high quality ABS with silver plating this egg is as powerful as it is good looking. For the ultimate in vibrating pleasure you can't beat the COLT® Multi-Speed Power Pak™ Egg. This egg will take you to thrilling levels of sensation and enjoyment. Luxuriously hedonistic the Multi-Speed Power Pak™ Egg provides the perfect way to achieve exciting fantasies and a vibrant experience just pulsating with gratifying enjoyment.



Both flexible and durable for long-lasting gratification the COLT ® Multi-Speed Power Pak™ Egg offers powerful sensations for the utmost in sensual pleasure. Whether you're flying solo or with a partner this egg offers the versatility that you'll want for fun and excitement. Also for maximum enjoyment always use with a water-based lubricant.



Remember to take great care of your egg by washing it thoroughly before and after use with toy cleaner or warm soapy water.