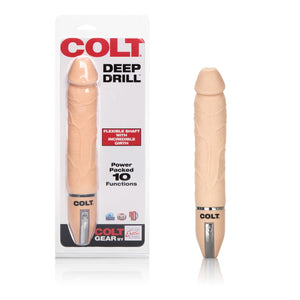 The COLT® Deep Drill is a man-sized anal probe that looks and feels incredibly lifelike. This flexible shaft boasts incredible girth and comes with ten power packed functions of vibration pulsation and escalation for the ultimate orgasm. Plus the vibrator has an easy push button control with a LED light that makes it easy to use even in the dark.



Body safe as well as thrilling the probe is shaped of silicone with cap and decor made from ABS with PU Cote and silver plating.



With this sex toy you'll be on your way to an amazingly intense experience a pulsating powerful adventure that's all about pleasure. This sensation enhancing vibe not only looks and feels real but it's also durable and well crafted great whether you're flying solo or pleasing a partner. You'll find plenty of fun to enjoy and excite you either way as the wonderfully hedonistic adult toy moves intensely and smoothly.



You'll want to add this top of the line probe to your sex toy collection! The Deep Drill offers a full palette of power and pleasure and a sensual experience ready for you at the push of a button.