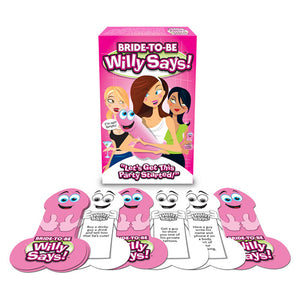 Next Working Day Delivery 1pm cut off
Includes: 80 Hilarious Willy Says... Dare Cards.
No this isn`t Simon Says it's Willy Says...! And Willy wants to make your next Bachelorette party Hen party or Girls Night Out a huge hit!
From mildly funny to side-splitting hysterical Willy Says... will provide hours of outrageous entertainment. Turn red with embarrassment as one of your friends fakes a very vocal orgasm; laugh along as a partygoer intentionally pinches a guy`s butt while pretending that it was an accident or try to keep a straight face while hitting on guys that you have absolutely no interest in.