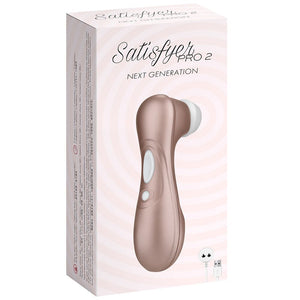 The Satisfyer Pro 2 gives women what they want the power to enjoy intense and multiple orgasms in the palm of their hand. It uses pressure waves to create powerful and focused stimulation. The waves are focused on the clitoris by the nozzle and pulse for a truly unique sensation.
With innovative vacuum technology this toy offers and a unique feeling that can be focused around and on the clitoris. It's also completely waterproof and can feel even more intense when used underwater.
This ergonomic toy fits comfortably in the hand so it can easily be positioned over the clitoris for maximum pleasure. The silicone nozzle can be removed for easy cleaning. To turn on the toy press the power button and switch it off by holding the button down for 2 seconds. To change between the different functions simply press the larger button.
The Satisfyer is rechargeable with a USB charger that connects to the toy magnetically.