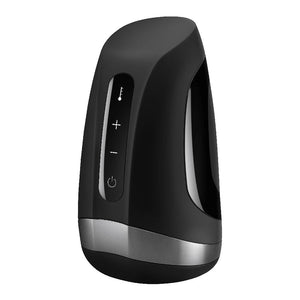 The masculine design in elegant black makes the heated masturbator to a stylish playmate for modern guys. Its ideal size fits perfectly in the hand and ensures pleasant operation even when it comes to wilder. Thanks to the rechargeable batteries the toy is not only good for you but also does the environment a favor. Does your playmate need new juice you just recharge it with the included USB magnetic cable and the wild jaunt can start all over again.



The Satisfyer Men Heat Vibration is equipped with an innovative heat function that makes your pleasure breathtakingly realistic. You can adjust the heat function in 3 stages up to 40 degrees Celsius and let yourself be driven crazy by the comforting warmth in the cuddly love tunnel. If you close your eyes in lustful ecstasy and you just drift to the summit of lust you have forgotten in a flash that you are here with a toy at hand! Do not you think? Then try it out!



Incidentally thanks to its wide opening you can also use the masturbator on a penis that has not been erected which makes it the perfect choice whether it's a first warm-up or a final firework. All this you can thanks to the waterproof (IPX7) processing in the shower or bath enjoy.



The soft and skin-friendly silicone is wonderfully supple takes your body temperature quickly and ideally complements the excitingly unyielding ABS plastic. For optimal enjoyment we recommend you the water-based and ideally on the Satisfyer Men products matched lubricants: Here you have the choice between Neutral Cooling and Warming. A water-based lubricant protects the material and keeps the surface nice and smooth. Thanks to the waterproof processing (IPX7) you can clean the toy extensively with lukewarm water and mild soap and use the antibacterial Satisfyer Men Disinfectant Spray for comprehensive hygiene.