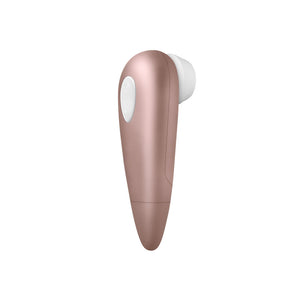 The Number One offers classic pressure waves in a beautiful rose gold design and provides contactless stimulation for the clitoris with 11 intensities. Thanks to the removable batteries your travels will never be the same!


Stimulates the clitoris using intense pressure waves without direct contact 


Made from super-soft body-friendly medical-grade silicone that's smooth to the touch and extremely hygienic


Thanks to its waterproof (IPX7) finish this toy can be used safely in water and is easy to clean


Key Points:


11 pressure wave intensities


Pressure wave and touch-free clitoral stimulation


Whisper mode


Waterproof to rating IPX7


Body-friendly silicone


Easy to clean 


15-year warranty


What can the Satisfyer Number One do?
The Satisfyer Number One will inspire you with intense pressure waves that make your clitoris shake. The clit vibrator has a sophisticated design in rose gold. Thanks to its ergonomic shape the Number One sits comfortably in your hand and stimulates your clit with no contact using 11 breathtaking intensities that you can easily adjust up and down using the +/- buttons. The delicate medical-grade and skin-friendly silicone makes this gem extremely pleasant on your skin and will bring you hours of pleasure.
What's so special about the Satisfyer Number One?
The clit vibrator is waterproof (IPX7) so you can enjoy it not only on the sofa or in bed but also in the shower or bathtub. The motor is whisper quiet so you can please yourself without distraction. You can easily change the battery as needed so you can take your Satisfyer Number One on the road and be ready for an erotic session anytime. Once the tremors of your climax have subsided it can be cleaned easily with lukewarm water and soap or a sexual wellness device cleaner. We also offer you a 15-year warranty on this device because we're so sure of its quality. What else is there left to do but order one and let your desires run free?