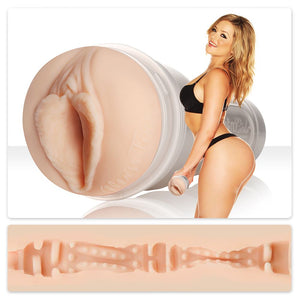 "Fleshlight Girl Alexis Texas is the Fleshlight male masturbator which replicates Alexis Texas's vagina. Available in realistic flesh tone color with her unique and exclusive Outlaw texture. Each custom-molded Fleshlight Girls masturbation sleeve is an exact mold of each star's most intimate parts. Each unit includes the patented Fleshlight Masturbation Sleeve and unique Pearlescent Case.


Key Features

- Made of patented Superskin material

- Easy to use and clean

- Discreet. Styled like a torch for discrection

- Made of patented Superskin material

- Intense texture inner canal


Fleshlight Sensation Outlaw

Alexis Texas's new Outlaw texture is accented by a relaxed entrance that gradually increases its embrace as you dive deeper and deeper. Break the laws of your inhibitions and become an Outlaw with Alexis Texas.


More about Alexis Texas

Southern belle Alexis Texas and her famed derrier are already on most every fan's radar. This blonde beauty of Scandinavian heritage has an insatiable appetite for anal sex and for many years has been awarded for that and other titillating sexual performances. With awards and accolades from every major adult entertainment award show Alexis (or Buttwoman as she is also known since her debut as such from one of her most popular films) Alexis is a highly regarded and gifted performer. Notorious for her amazing ass and sexy physique Alexis continues to grace the pages of magazines such as Maxim Hustler and so forth. A timeless stunner she's always up for a good time. "